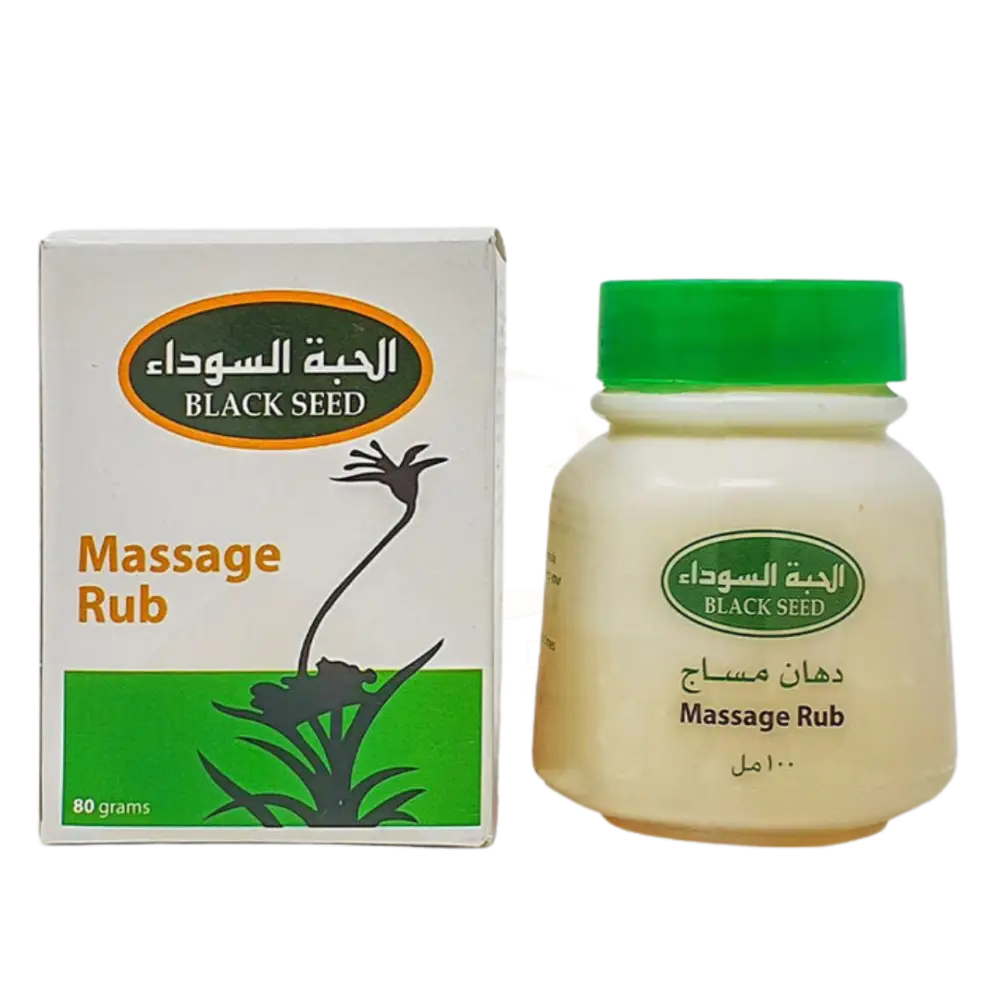 Black Seed Massage Rub
---
In stock, ready to ship

Inventory on the way
An invigorating and revitalizing massage rub, meticulously crafted to provide you with a deeply soothing and rejuvenating experience. Enriched with a harmonious blend of natural ingredients, including Black Seed Oil, Vaseline, Eucalyptus Oil, Turpentine Oil, Rosemary Oil, and Thymol, this massage rub is designed to offer a holistic approach to relaxation and wellness.
Black Seed Oil, known for its antioxidant properties, helps nourish and moisturize the skin, leaving it feeling supple and soft. Vaseline acts as a protective barrier, locking in moisture and enhancing the overall texture of your skin, ensuring a comfortable and smooth massage.
The carefully balanced addition of Eucalyptus Oil contributes a refreshing and cooling sensation, promoting a sense of relief as it eases tension and soothes tired muscles. Turpentine Oil, used traditionally for its aromatic and analgesic qualities, complements the blend by providing a gentle warming effect that aids in easing muscular discomfort and promoting relaxation.
Rosemary Oil, with its invigorating aroma, helps uplift the senses and contributes to mental clarity, creating an immersive experience that goes beyond the physical. Thymol, derived from thyme, adds a touch of natural antimicrobial properties, offering a layer of purification to the skin.
Combined, these ingredients synergize to create a massage rub that not only nurtures your body but also soothes your mind. Whether you're seeking relief from daily stresses or looking to enhance your massage therapy sessions, our unique blend is the perfect choice. Indulge in the luxurious sensation of this massage rub and embark on a journey of tranquility and revitalization that uplifts your senses and rejuvenates your well-being.
Ingredients: Black Seed Oil, Vaseline, eucalyptus oil, turpentine oil, rosemary oil, thymol.

Spend £25 to qualify for FREE UK delivery
Standard UK delivery: 3-4 days
Express UK delivery: 1-2 days
Worldwide delivery is also available.